THE SYSTEM
HOLISTIC APPROACH TO CYCLING TRAINING AND DEVELOPMENT
---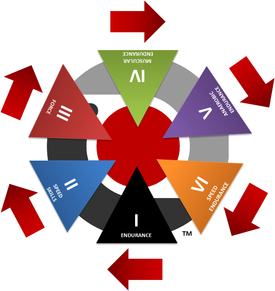 OUR FOCUS
We focus on building cardiovascular fitness, discipline in training, patience and attention to detail to establish a strong foundation to build on. Focused attention on Heart Rate and all training zones to create a high level of aerobic conditioning which is critical component of HR/Power Training.
DEVELOPMENT AREAS
Build Endurance – Primary focus on building cardiovascular fitness throughout the program with aerobic and tempo development training.
Pedal Efficiency – Mastering the art of pedaling takes shape with drills that incorporate all aspects of a proper pedal stroke.
Applying Force – Not to be confused with power, force is building on the bike strength with techniques often neglected by most cyclists.
Lactic Utilization – Training the body to utilize lactic acid as fuel is where the rubber meets the road.
V02 Max – Applying calculated stress on the anaerobic system is where the real gains start to take shape with high intensity intervals.
Speed Improvement - High intensity interval training to increase maximum power and improve lactate production or clearance.
---
---
PROGRAM BENEFITS

See Improvements within 4 weeks GUARANTEED...

Increase pedal stroke and Climbing Efficiency...

Ride Faster, Further and Stronger with less effort...

Build Endurance and on the bike strength with Focused Indoor Training...

HOW TO GET STARTED

Device that measures Heart, Cadence and Speed. (We recommend Garmin 500 or Above)

Indoor Trainer or Rollers

Power Meter (Not Required)

STRAVA Premium Account (Preferred) (www.strava.com)


Economy Option

: Cost effective training options with online coaching.

12 Week - $74.95 per month

18 Week - $99.95 per month

26 Week - $124.95 per month


Premium Option:

Event Ready Training with Coaching and Development.

26 Week - $174.95 per month

38 Week - $224.95 per month




Elite Option

- All Inclusive Training with direct access to Coach David.

48 Week - $274.95 per month

52 Week - $324.95 per month